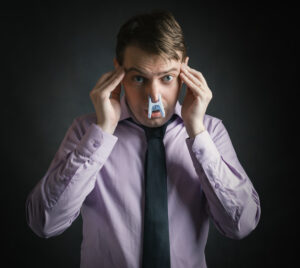 Chemical sensitivities bother many people; it's a common but not a normal symptom. Perfumes have a type of chemical in them called an aldehyde that is also found in new furniture, carpets, paints, leathers and similar items. Many people have an aldehyde sensitivity. For some people it is genetic and they need to take more of the nutrients molybdenum and/or selenium to help break down the aldehydes. For other people it is provoked by a yeast/fungal infection (usually in the digestive tract), where the yeast converts another chemical into the aldehyde, giving them more than they can handle. Whenever painting, new furniture is purchased, installing a new floor or carpet it is always a good idea to put certain plants in the room or rooms to help draw the aldehydes out of the objects so they are removed from the air much quicker. The plants that help the most with this are golden pathos, spider plant, elephant ear and lacy tree philodendrons. Use one plant for every 100 or so square feet of room. In the case of some new furniture, putting the plant above or on a table next to it will suffice.
Another type of chemical sensitivity is a hydrocarbon sensitivity that is found in more volatile chemicals such as gasoline, as well as in products such as Sharpie magic markers. Hydrocarbon sensitivities are usually provoked by a fatigued immune system. Therefore, building up the immune system usually helps a lot.
Many people are also sulfite sensitive, which means that they cannot handle sulfite containing foods such as wines and some preserved foods, commonly dried fruits. Many restaurants preserve their salad bars with sulfites to keep them "looking" fresher longer. Sulfite sensitivities cause headaches and other nagging symptoms in people and they don't even realize that they are sulfite sensitive. Molybdenum and selenium help this sometimes. Make sure your wine says "No sulfites detected".