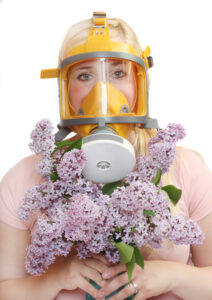 Natural allergy relief is possible for most allergic conditions with perhaps the only exception being those that are anaphylaxic in nature.  Today, there are many ways to diagnose food allergies and evaluate what food or foods or other substances (e.g. pollen, grass, dust, pet hair, etc.) which a person may be allergic to. There are laboratory tests, self tests such as an elimination diet, and neurological muscle testing procedures to investigate this issue. No one test is 100% accurate. Other factors come into play such as the strength of the immune system. A person with a fatigued immune system many times will show up allergic to the majority of foods on a lab test.
Natural allergy relief often focuses on healing the digestive tract. The GI tract is of utmost importance in order to help overcome or greatly reduce food allergies, and even environmental allergies. "Leaky gut syndrome" is a common term given to food allergies as there is an antibody-antigen reaction within the damaged digestive tract. The adrenal glands also play an important role in an allergy response; the more stressed out someone is, the more allergic to foods and their environment they will be.
Allergies affect many people everyday and food allergies are some of the more common allergic reactions. Some estimate that over 28% of children and 55% of adults have some type of allergy. An allergic reaction occurs when a person is exposed to an antigen (food, dust, pollen), and there is an immune response. This differs from a sensitivity or an intolerance that does not result in an immunological response. Most understand a typical allergic reaction such as anaphylaxis from a bee sting or an outbreak of some sort from eating shellfish or peanuts. These are known as immediate onset, Type I reactions that release IgE antibodies. These reactions occur very quickly, usually within 2 hours. Histamine and other chemicals are released from mast cells. Due to their circulation half-life of 1-2 days, clearance of the allergy is rather quick. A person with a Type I allergy usually knows what they are allergic to, or they eventually find out. When a physician performs "skin testing", also known as a scratch test, where an antigen is injected just under the skin in order to elicit a response (inflammation/color change), this is to check for an IgE type allergy. Type I allergic reactions are not inherited, but are thought to run in families. The symptoms from this type of reaction can be a runny or stuffy nose, chronic ear infections, dark circles under the eyes, joint pain, headaches, and sometimes anaphylaxis. IgE reactions are almost always permanent and require strict avoidance. Making sure the immune system is working optimally is extremely important when dealing with all allergies, particularly this type especially if the Type I reaction is environmental where avoidance is much more difficult than a food product.
Types Of Allergies
There are a significant amount of individuals with IgG type allergic reactions, which can be either Type II or Type III. Type II reactions can also involve IgA and IgM antibodies. They are slow onset and have a cytotoxic response resulting in damage to cells. Type III reactions are of an immune complex type and result in not only IgG antibodies but also IgG immune complexes. These reactions can occur days to hours after exposure and the immune complexes must be broken down by the liver and spleen. Type III reactions will result in tissue damage and inflammation. They are also implicated in many autoimmune diseases. It is estimated that 80% of all antibodies are of the IgG type. The half-life of an IgG antibody is 21 days and the mast cells that release histamine can last 2-3 months, so symptoms can be present for a long time. Many people have IgG allergies that they are unaware of which result in daily, nagging symptoms. Symptoms resulting from an allergy are extremely widespread.
Common Allergy Symptoms:
Gastrointestinal: diarrhea, gas, constipation, ulcers, weight gain or loss, failure to thrive (children), loss of appetite, infantile colic, celiac disease, IBS
Musculoskeletal: joint pain, arthritis, bursitis, back or neck pain
Immune: rheumatoid arthritis, lupus, multiple sclerosis, chronic infections and colds
Neurologic: headaches (especially migraine), fatigue, insomnia, anxiety, depression
Respiratory: asthma, including exercise induced asthma, sinusitis, post-nasal drip, ear infections, coughing, sneezing (especially in series – "I sneeze 5 times every morning.")
Dermatological: acne, canker sores, itching, rashes, eczema, dermatitis
Other: pulse speeding up after a meal (an increase of about 10 beats per minute), frequent yawning, groggy, trouble concentrating, ADD, ADHD, autism, watery nose or eyes, weak thighs or knees especially after eating, "seasonal allergies" (Most people with seasonal allergies have some type of food allergy.)
Food Allergy Causes
Since allergies cause histamine to be released from mast cells, a positive response with an antihistamine medication is surely a clue that an allergy is present. Histamine reactions will deplete levels of folic acid and vitamin B6 in the body, which are very necessary for a variety of bodily functions. Natural allergy relief treatment may include the use of these vitamins as well as other supplements.
The most common allergenic foods, in no particular order, are dairy (cow casein), wheat, gluten (wheat, rye, barley, (some oats), nightshades (tomato, potato, pepper, paprika, eggplant, goji berry, tobacco), corn, soy, egg, citrus, coffee & cocoa bean, and nuts.
The Different Types of Antibodies in Response to An Allergy:
IgA – barrier system – gut, lungs, blood brain barrier
IgE – acute, anaphylaxis, full blown allergic response, genetic sensitivity to substances
IgG – immune response that has lasted months or longer
IgM – recent immune response – within 3 months; presently active / attacking
IgD – Most commonly associated with tartrazine sensitivity (FD&C Yellow #5, E 102)