Winter is just around the corner so now is a good time to have your vitamin D level checked (via a blood test) if you haven't done so recently. A healthy individual can typically store around a three month supply of vitamin D in their tissues so most will lose a substantial amount of stored vitamin D as they hibernate indoors over the winter and the UVB rays which provide vitamin D are low to non-existent in many areas. The time of day, season, altitude, latitude, and many other factors all determine the amount of UVB that reaches your skin. For many, supplementation may be a good idea to either raise levels back up to normal, or keep them from depleting over a long winter.
Vitamin D takes calcium from the digestive tract and brings it to the blood where it can then head off to perform many of its functions such as building bones, pumping the heart, and contracting your working muscles. But vitamin D is needed for more than calcium metabolism – it's necessary for a healthy immune and nervous system – so it's very important your level is adequate especially going through the typical cold and flu season.
Free Vitamin D Right from the Sun
When the Sun's rays enter the Earth's atmosphere at too much of an angle, the atmosphere blocks the UVB portion of the rays. This occurs during the early and latter parts of the day and during the winter season, increasing as one moves further away from the equator. This is called "Vitamin D Winter."
Latitudes above 40 degrees north (New York City, Denver) will experience Vitamin D Winter from around November through early March. Between zero degrees to around 35 degrees north or south allow year-round vitamin D production, higher levels closer to the equator. Here in central North Carolina we're just above 35 degrees so you can estimate that our Vitamin D Winter is primarily for three months – December, January, and February, with November and March providing some UVB days. An interesting and fun fact is that if your shadow is longer than you are tall, (an indicator of the oblique angle of the Sun), you are not making much vitamin D. So check your shadow!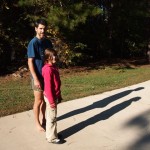 For optimum vitamin D production, sun exposure should be midday between the hours of approximately 10am-2pm. These hours will also vary slightly according to latitude. The closer to solar noon, the more vitamin D produced. During a summer day around noon in Miami an individual with moderate skin pigmentation would require approximately 6 minutes to synthesize 1000 IU of vitamin D but at the same time in Boston it would take that same person ten times longer – 1 hour!
Speaking of skin, the amount of skin exposed is important. At least 40% of the entire skin surface should be exposed for optimal vitamin D production. The torso produces the most, legs and arms some, and the hands and face very little or none at all. Go topless!
Melanin is the pigment that determines our skin color; it is Nature's built-in protection against skin damage from excess UV ray exposure. This is why those whose ancestry is native to regions near the equator have darker skin than those native to regions located at higher latitudes. It is also why those with darker skin living at higher latitudes have higher prevalence of vitamin D deficiency, and especially those individuals who also live at low elevation as UVB rays diminish as elevation decreases.
Another factor that affects UVB ray and vitamin D exposure is age. Vitamin D synthesis can take up to four times as long for those over the age of 60 and under the age of 20, apparently due to having less cholesterol in the skin. Some claim that many soaps and lotions can negatively affect skin cholesterol levels and therefore impair vitamin D production. Sunscreen also blocks the absorption of vitamin D; a SPF as low as 8 can block as much as 95% of vitamin D production.  And speaking of cholesterol, the statin medications, (ie: Lipitor, Zocor, Crestor, Prevachol), not only block the production of the important antioxidant CoQ10, but they also hinder vitamin D as well.
Glass also significantly limits if not eliminates UVB exposure, so sitting in a sunroom will not bring up your vitamin D levels. Indoor tanning beds and sun lamps do provide UVB rays, and therefore can provide vitamin D, but they should be used sensibly due to their direct exposure. Air pollution can either increase or decrease the UVB rays.
How Does One Actually Make Vitamin D from the Sun?
UVB rays from the sun penetrate the epidermal (outer) layers of the skin and cholesterol (7-dehydrocholesterol) in the tissue of the skin then absorbs this UV light to make vitamin D3, also known as cholecalciferol. This further goes on to become 25-Hydroxycholecaliferol (25(OH)D, also known as calcidiol) in the liver, which happens with adequate niacinamide (vitamin B3)and magnesium levels. This 25(OH) vitamin D level is the one that is the best indicator of vitamin D status. Then with some more niacinamide and iron it becomes 1,25-dihydroxycholecaliferol (calcitriol) in the kidneys. This is the most hormonally active form and our most potent steroid hormone which controls the expression of many our genes.
Those hydroxylation (OH) steps in the liver and kidney are highly dependent on antioxidants such as vitamin A, C, and E in addition to niacinamide, magnesium, and iron. Other nutrients such as vitamin K, boron, and calcium are also very important for the absorption and synthesis of vitamin D. Healthy fats play an important role in vitamin D absorption too, especially the omega 3 fats from fish and flax and saturated fats from eggs, butter, and coconut. A coincidence that coconuts only grow where there is lots of year round UVB exposure? Probably not.  Salmon and egg yolks contain healthy fats, vitamin A, and even some vitamin D!
Speaking of the sun, many people lather up in harmful sunscreens and sunblocks to prevent sunburn. Although this can be somewhat attributed to skin pigmentation, often sunburned individuals are receiving  too much vitamin D and not enough healthy fats, calcium, or antioxidants in their diets (poor hydroxylation). So a diet high in coconut milk/oil, butter, fish oil, and antioxidant-rich food such as colorful fruits and vegetables will not only help with vitamin D absorption, but also prevent sun damage. Healthy fats bring calcium to the soft tissue, including the skin. People who get thick, leathery skin from too much sun exposure are often dealing with too much vitamin D and a lack of healthy fats in their diet which creates a calcium starvation problem in the tissues.
Blood Testing and Your Immune System
The optimum serum level of 25(OH)D is between 50-80ng/mL. If your level is very low you may need to supplement with some Vitamin D3 (not D2) as even an adequate diet and sun exposure may not be enough. But it is not necessarily as simple as what we hear in the news – the vitamin D fad that "everyone is deficient and everyone needs to take vitamin D." What most do not know is that the 25(OH) vitamin D is often converted to a high amount of 1,25(OH) vitamin D when there is an infection, such as those bacterial in nature as well as autoimmune diseases such as rheumatoid arthritis. So if you're taking vitamin D because your doctor told you to based off your 25(OH)D blood results, you should be aware that your body perhaps wants that 25(OH)D low because if it increases it more then you will provoke the infection/illness – and that's a really bad idea. Unfortunately you're going to have to fight with most doctors to get them to check your 1,25(OH)D level to make sure it is not too high if you also have a low 25(OH)D.
A Few More Things to Mention About Vitamin D
Vitamin D is key to the proper operation of the innate immune system – this is what defends your body against all infections
Excess intake of vitamin D is linked to chronic diseases and obesity
Currently nobody is really quite certain exactly what the normal blood range of vitamin D should be. It is most likely individualized. In other words, you may be fine if your 25(OH)D is 50ng/mL yet someone else may need 80ng/mL.
At least once, (or more often if it is high), you should have your 1,25(OH)D level checked, especially if your 25(OH)D level is low and you're considering supplementation. If you supplement and your 1,25(OH)D is high, (especially > 110 pmol/L), you are considered high risk for provoking an existing problem – perhaps an autoimmune issue or infection.
From my experience, taking the prescription dose of 25,000-50,000IU of vitamin D2, (Deltalin, Drisdol, Calciferol ), and especially the calcitriol medications, (Rocaltrol, Calcijex, Decostriol,) are harmful to patients and quickly result in problems even at just one pill a week. I always see a patient react negatively to these meds – ranging from muscle aches and headaches to digestive problems and fatigue. I, as well as many physicians, have had tremendous success with patients taking 5,000-6,000IU of vitamin D3 once a day and dosing kids at 1,000IU for every 25 lbs of body weight. Some people may need 10,000IU a day for a very short time, but always of D3.
Vitamin D2 (ergocalciferol) is for plants and fungi. Vitamin D3 (cholecalciferol) is for humans!
Some studies have shown that you will increase your vitamin D absorption by more than 50% if you take your supplement (D3) with a fatty meal (coconut oil/milk, egg yolks, avocado, butter).