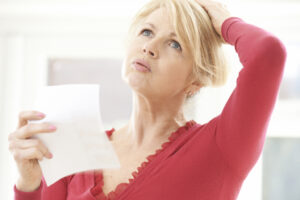 Despite what the commercials say, menopause is not a disease. If you're a woman and don't eventually go through menopause, you've got problems. Your hormones are supposed to change. Despite what someone may have told you, you are still producing hormones as long as you are healthy. Menopause does not mean that all hormonal output goes to zero, though many are told this by their doctors.
In postmenopausal women, the three estrogens, (primarily estrone), are produced to some degree in the adrenal glands as the ovaries naturally lose their ability to produce estradiol. The estrogen is made from a hormone called androstenedione, as well as your body's fat cells. Progesterone is now also going to be produced in the adrenal glands, as is testosterone. So, in premenopausal years a woman produced roughly 75% of the sex hormones from the ovaries and 25% from the adrenal glands. Now that the ovaries are in retirement, they will heavily rely on adrenal gland function from here on out (as well as fat tissue).
Now let's address two major points – the adrenal glands and hormone replacement therapy (HRT).  Most people have never even heard of the adrenal glands except when maybe talking about adrenalin. The more unresolved stress you've been under, the worse off your adrenal glands will be and the harder menopause and after will be.
HRT Dangers
If you need to replace your hormones the via some replacement therapy (HRT) that's fine if it is truly necessary. However, I would estimate that at least 95% of all post-menopausal women I see on HRT have never had their hormones checked. That, in my opinion, is unbelievable and unacceptable. It really makes you think about the increased rates of breast and ovarian cancers today and all the women on HRT – usually just estrogen. Nobody ever wanted to check what the estrogen or progesterone level was before going on HRT or after being on them for some time. There are so many women who have been on some HRT (mostly synthetic) for 5, 10, 20 years and nobody ever bothered to see if it was the right thing to do. Everybody just goes by symptoms: low energy, low libido, vaginal dryness, hot flashes, moodiness. Take Premarin or some other form of HRT. More often than not, when the hormones are checked, progesterone is indicated rather than estrogen. Adrenal support helps greatly as do supplements such as essential omega 3 & 6 fats and natural mixed vitamin E.
A big problem with the synthetic hormones is that they differ chemically from what your body normally produces, and this many times causes confusion as you process the hormone. A person many times gets a "darned if they do, darned if they don't" effect as the hormones help their symptoms, but causes other problems, such as immune problems that have been linked to cancers. This has been in the news many times recently. The estrogens in synthetic medications such as Premarin are a completely different combination than what a woman's body normally makes. Synthetic testosterone isn't even legal in many countries outside the United States. Don't try to fool your body, and stick with the natural hormones that are compatible to your biochemistry but only if you need them. They still carry risks, including cancer.
Have your hormones checked. If HRT is necessary, then I advise on two things. First, try the more natural hormones first either in a sublingual, troche, or sometimes a cream form. Second, make sure you have the adequate nutrients to detoxify the hormones. Nutrients such vitamin B6 (in its active P-5-P form), magnesium, and the sulfur amino acid cysteine are necessary to detoxify hormones. Though there are many other important nutrients that are needed to detoxify hormones, especially estrogens.
HRT and Kidney Stones
Those using hormone replacement therapy (HRT) can now add an increase risk of kidney stones to their list of problems along with increasing their risk of breast cancer, stroke, and heart attack. It was originally thought that naturally occurring estrogen helped protect against kidney stones, and therefore so would other sources of estrogens such as those from drugs like Premarin, but actually the opposite is true. Although the recent study only looked at synthetic forms of estrogen and not natural or bioidentical estrogens, even bioidentical estrogens increase ones risk of cancers and other health problems. Sure they're now recommended in the "lowest amount possible for the shortest period of time" but they still have their risks, and they don't address the problem, which is almost always from an imbalance in progesterone (low) and estrogen (high).
Yes, typically women have hot flashes, low libido and other hormone related problems because their progesterone is low since it has been used to make cortisol, the body's major stress hormone. Additionally, throughout their pre-menopausal life most women are estrogen dominant, meaning they have more estrogen than their body can handle. This is what causes most PMS in women. So the body makes more and more of what are called uptake receptors to deal with the estrogen but once the woman goes through menopause the receptors are quickly missing all the estrogen they have learned to love for so many years. So the body perceives this as low, although in reality, it rarely is actually low – just lower than what it used to be. If anything, most women still have too much estrogen as it is made by adipose tissue – body fat. So the more fat a woman is the more estrogen she will produce, and the more estrogen she produces, the fatter she will become. That's a vicious cycle with an unhappy ending.
Preventing the problem starts and continues through the cycling years by maintaining healthy hormone levels. That means making sure progesterone levels stay at their healthy levels which is done by eating well, exercising (aerobically), and keeping stress levels in check. By doing so, progesterone can stay as progesterone and not wander off to make cortisol. Along with that, proper estrogen detoxification is necessary and a result of a healthy liver and gallbladder and a normal bodyfat level, all which are obtained from a healthy lifestyle and diet – not from taking any hormones, natural or synthetic.
The following is an update taken from the Medical College of Georgia, February 16, 2005:
Hormone replacement therapy, touted for its ability to reduce the risk of heart attack and stroke in postmenopausal women, appears to increase the risk of those conditions, according to findings of the Women's Health Initiative, a 15-year study of more than 161,000 women by the National Institute of Health's National Heart, Lung and Blood Institute.
They were studying estrogen's effects on blood vessels, focusing on its impact on the smooth muscle cells that allow blood vessels to contract, thereby regulating blood pressure and blood flow. These researchers found that estrogen targets nitric oxide synthase 1, one of three versions of the enzyme that makes the powerful vasodilator, nitric oxide.
"What we were finding is that estrogen seems to be what you might call a natural nitroglycerin; nitroglycerin also works by making nitric oxide," Dr. White says.
Then they tried to block estrogen's activity by blocking nitric oxide. "What surprised the heck out of me was after we blocked nitric oxide production and added estrogen, we got a contraction," says Dr. White. "Estrogen now had turned into a constrictor agent, an agent that would increase blood pressure."
They looked further and found that normal aging decreases levels of the cofactors L-arginine and tetrahydrobiopterin – both critical to nitric oxide synthase's production of nitric oxide.
Instead of making nitric oxide, estrogen was producing the powerful age-promoting – and apparently vasoconstricting – oxygen-free radical, superoxide.
"Under normal conditions, such as a pre-menopausal woman, this enzyme, nitric oxide synthase, makes nitric oxide," says Dr. White. "But if you block the production of nitric oxide, this nitric oxide synthase now has a secondary product that normally isn't made in an appreciable form. Now it makes a compound called superoxide. It's an oxidant, and oxidation is bad in general. It causes a lot of cellular damage.  But what we also have found is that now, instead of causing relaxation, it causes constriction. So you completely flip-flop the response here. "One of the things this means is that menopause is a good thing, a sort of revolutionary endocrinology idea," says Dr. White. "Menopause is adaptive because a woman is not supposed to have as much estrogen when she gets older because it can kill her."
"Estrogen is so powerful; it affects every system in your body. We are looking with tunnel vision at its effect on blood pressure control. What would this do to bone? What would this do to Alzheimer's? What happens to the brain is probably very similar," he says as critical cofactors drop that enable estrogen to relax blood vessels. "This could be a mechanism that would affect practically every system in the body."