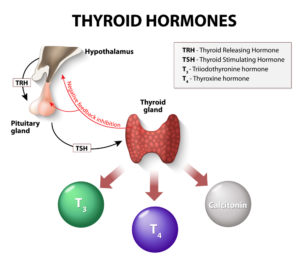 Thyroid problems are a common occurrence. Many people take Synthroid (T4) or the natural thyroid hormone Armour Thyroid (T4 & T3). The thyroid is the most frequently tested hormonal gland today. You don't hear too often of a woman having her estrogen or progesterone checked or a person having their adrenal function checked. Now it's time to discuss how to optimize thyroid function!
Many people with a thyroid issue go through a period when they are hyper (high) one week (or day) and hypo (low) the next as the thyroid is trying to regulate itself. Since the thyroid is so sensitive to changes in adrenal function, estrogen production, immune function, and insulin production, you can understand why frequently the end result (or shall I say final diagnosis) s hypothyroidism as the gland is too tired to function as it should anymore.
Symptoms of Low Thyroid Function
cold hands and feet
dry, flaky skin
soft, brittle fingernails
cracking of the heels or hands
over-emotional – cry for no reason
thinning or balding of the hair, especially the lateral 1/3 (outside) of the eyebrows
frequent infections
puffy upper eyelids
inability to lose weight
low sex drive
PMS
fatigue, worse in the morning
"foggy" thinking
loss of memory
depression
morning axillary (armpit) temperature below 97.8
Let me stress how important your health is on your thyroid. If you eat too many carbs and make too much insulin, then you'll block the major thyroid hormone T4 from converting to T3. This will also happen if you make too much cortisol (from stress). T4 conversion to T3 doesn't even occur in the thyroid, yet physicians only want to look there. 60% of the conversion occurs in the liver and the other 40% is up to the kidneys and digestive tract.
Always address all your hormones as discussed before you go on any medication, especially a hormonal medication. And always have a complete thyroid panel done, (TSH, freeT4, freeT3), not just TSH (thyroid stimulating hormone, from the pituitary gland). Checking reverse T3 if your T4 is high and your T3 is low is a good idea. If things just don't make sense, then investigate the many times overlooked autoimmune diseases effecting the thyroid – Grave's and Hashimoto's. These are called TG and TPO antibody titers. Hashimoto's is the number one reason today for low thyroid function, worldwide. It is an immune problem, but a thyroid symptom.