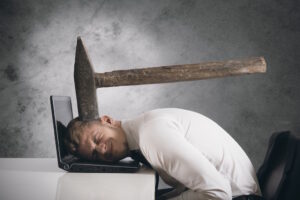 Headaches and migraines are not normal yet so many people get them either every day or many times a week. People are so used to getting headaches and since the physician, (who probably gets them too), treats them with a pain killer or anti-inflammatory, so of course they are considered "normal." Headaches can be caused by many, many things (too much to list here), but I will discuss a few of the most common reasons.
Provided there is not a pathological issue going on, such as a vascular episode, the headache you are experiencing could be from a hormonal imbalance, a food sensitivity or allergy, blood sugar imbalances, stress, or even a structural issue, (such as a muscle spasm or a spinal misalignment). Headaches are not caused by a lack of caffeine, that's for sure, and not everybody gets them. Figuring out what is causing your headache is what is going to fix your headache, and that is different for everyone, even for two people that may have a headache in the same exact spot. If your headache is relieved by some anti-inflammatory drug (NSAID) then it is most likely you have a fatty acid imbalance. You can read more about fats and inflammation throughout this website by searching "hydrogenated fats" and "inflammation".
Migraine Causes
Migraines, although occurring for similar reasons as other headaches, are much more complex and if you get them, you know how much more extreme and debilitating they are. If they are one-sided, as most are, there is sometimes a neurological consideration and there are always biochemical (hormonal and nutritional) considerations. Many times migraines are a complexity of issues that vary from person to person. I have seen many patients have with migraine-type headaches weekly, even daily, from consuming Nutrasweet (aspartame), and/or MSG. Food allergies can also cause a migraine. It is also very common for a woman to have her migraine(s) correlate with her monthly cycle. Often the migraine comes around ovulation and again during the end of the cycle (PMS) – these are both indicators of poor estrogen detoxification via the liver and gallbladder. There are many ways to go about balancing the hormones in this case and properly aiding detoxification to end the migraine cycle. Emotional and physical stress can provoke a migraine too.
There's a reason for your migraine, and that reason is different for everybody, even if the latest and greatest medication provides temporary relief. If you consume some Nutrasweet, even once a week, you can usually be certain that it is causing some, if not all, of your daily nagging symptoms – that could be your headache/migraine, fatigue, back pain, moodiness, or any other complaint you have (or haven't) learned to live with.