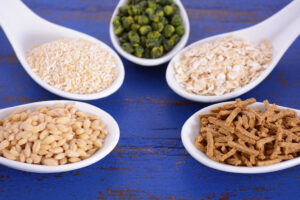 Below is one version (of many) of the glycemic index. For improved carbohydrate metabolism, weight management, more energy, and better overall health, use the glycemic index as a guide when making food choices. Try to eat foods under 60 on the index, but remember just because a food like ice cream has a GI or 52, doesn't mean to eat a lot of it! Again – the glycemic is only a reference guide. A diet of any food low on the GI is probably not healthy.
Glycemic index is a measure of how much blood sugar stress a food creates, as well as insulin production.
An individual who is insulin resistant will have a higher GI meal than one who is not.
Lower glycemic index foods help create greater satiety and a more even flow of glucose into the blood.
Fat, protein, and fiber content can all lower the glycemic index of a meal.
Eating foods higher in the glycemic index is associated with age-related illnesses, immune dysfunction, cardiovascular problems, and many other health issues.
American foods are much higher in the glycemic index than other countries, as you can see from the few examples below.
Try to eat foods that rate between 60-90; best choices are below 60 on the index.
Food

Glycemic Index

Grain and Cereal Products

(most of these are not healthy!)

White Bread
100
Whole Grain Bread
52-73
Brown Rice
79
White Rice
71-83
Bagel
103
White Spaghetti/Pasta
66
Rice
80
Doughnut
108

Cereals

(most of these are not healthy!)

Cornflakes
110-130
Grapenuts
96
Shredded Wheat
97
Crispix
124
Oatmeal
77

Fruits

Raisins
93
Banana
75
Orange Juice (USA/other countries)
81/66
Orange
62
Grapes
62
Apple
53
Pear
50
Peach
40
Grapefruit
36
Plum
34
Watermelon
103
Pineapple
94
Vegetables and Starches

Baked Potato
130
Sweet Potato
87
Carrots
68
Yams
53
Peas
68
Corn
78

Beans

Canned Baked Beans
69
Kidney Beans
42
Green Beans
42
Chickpeas
49
Lentils
43
Soybeans
25

Dairy Products

Ice Cream
52
Yogurt
52
Whole Milk (USA/Italy)
57/15
Skim Milk
46

Sweeteners/Sugar

Maltose
152
Glucose
138
Honey
78
Sucrose
92
Fructose
27
Soft Drinks (USA/other countries)
95/76
Some information taken from The American Journal of Clinical Nutrition (Vol. 76, No. 1, 2002) and MAF BioNutritionals, LLC