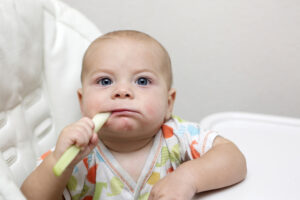 A healthy sensory diet can dramatically improve your child's overall well-being. Most likely your therapist or health care professional will recommend a wide variety of tastes and textures for various therapeutic purposes. For instance, it is believed that sucking promotes near vision with binocular lock, trunk flexion, and sucking promotes sounds produced at the back of the mouth such as k and g and some sounds from the front of the mouth such as b, d, m, p, and t. Blowing promotes far vision with binocular lock, trunk extension, and sounds that require graded air flow such as f, s, sh, h, z, n, h, and others. Researchers also believe, biting promotes eye-hand coordination, stability in the jaw, neck, shoulders, and pelvis and helps produce front mouth sounds. Crunching and chewing offers balanced stability and jaw, neck, shoulder, pelvis mobility. It is also understood that sugar, preservatives, artificial sweeteners, partially hydrogenated fats, and other additives significantly depress the immune and nervous systems, which has body wide effects chemically, physically, emotionally, and behaviorally. In order to help parents and professionals provide a healthy sensory diet, several suggestions and specific brands have been compiled for you. There are many, many name brands and items not mentioned here, this is only a beginning.
A Healthy Sensory Diet

It is essential to support every child with a healthy diet, whether they have developmental delays or Sensory Integration Dysfunction, or not. The make-up of your child's diet certainly affects the function of his or her brain, immune system, nervous system, and learning processes. A child who is supported with a healthy diet is far more likely to respond as we strive to help them grow and develop physically, structurally, emotionally, and to develop cognitive and social skills. It is never too late to begin!
Healthy Snacks which also Strengthen Suck & Blow:
The ability to suck & blow is helpful for language development and coordination. Low sugar diets are preferable for health reasons & sugar increases drooling. Generally, citrus is healthy and helpful as it facilitates sucking.
Organic Apple Sauce: brands without pesticides and without added preservatives and sugars include Santa Cruz Organic, Colorado's Golden or Leroux Creek Golden. Several flavors are available.
Cran Juices and Lemonade: Find juices made with 100% natural ingredients, exclusively sweetened by fruit juice, and without preservatives. Sold in juice boxes or in 32-128 fl. oz. Health food stores carry many name brands. Try R.W. Knudsen Family Lemonade.
Flat Sugarless Candy: Caution: Many sugarless items contain artificial sweeteners, which should be avoided. Find candy with neither sugar nor artificial sweeteners. Try People Pops lollipops or honey sticks.
Food Dips: Plain yogurt sweetened with fresh fruit, nut butters for spreading or dipping (almond, sesame, soy, macadamia, and sunflower) KIME'S apple butter with no sugar. (Avoid or minimize peanut butter.) Look for organic grass-fed yogurts like Organic Valley, Maple Hill, Traderspoint, and Kalona Supernatural.
Jell-O Cubes and Puddings: "HAIN Pure foods" makes naturally flavored Jell-O in many flavors. Also, regular or non-dairy puddings include Imagine Natural, Lundberg Family Farms, Mori-Nu Mates.
Fresh Orange wedges, Fresh grapefruit wedges
Juice Smoothies: homemade of course. Look for clean MSG-free whey protein, organic fruit, organic rice, hemp, or almond milk, pure honey.
Popsicle's: "real" ice cream without preservatives. SO Delicious (coconut) & Rice Dream, Cascadian Farm Popsicle's and sorbet. (Avoid Tofutti brand.)
Rice, Hemp, Oat, Almond, Coconut, Goat (or organic cow milk too): variety of brands and flavors. NEVER ANY SOY MILK!
Healthy Snacks to Increase Jaw Control: Munch & Chew:
The ability to crunch and chew is important for balance, stability, language, and coordination.
Munch/Crunch:
Raw sticks of carrot, celery, cucumber, zucchini, pickles
Ripe Fruit like apples, pears, peaches, raisins
Natural Cereals: "Heritage O's" by Nature's Path, "Nature O's" by Whole Grain, Shredded Spoonfuls, Crispy Brown Rice, Groovy Grahams, Honey Round-Up, Fruity Punch by Barbara's and other whole grain companies
Whole grain crackers with nut butter, butter, or plain. New Morning Natural has Graham Crackers. Whole grain bread or toast. Gluten-free products are usually better.
Chips and Pretzels: Olive oil potato chips, Veggie Rings & Puffed Corn by Arrowhead Mills. Tortilla Chips by Guiltless Gourmet. Pretzels by Newman's Own.
Granola: Regular or wheat free. Nature's Choice. Unfortunately most are loaded with sugar. We make our own with honey as a sweetener.
Sweet Tarts: Frosted Toast 'N Jammers makes natural pop-tarts.
Chew:
Unprocessed Cheese: try real cheese instead of a spread. Cow or goat's milk
Dried Fruits: unsulphured dried cranberries, dates, figs, mangos, bananas.
Natural French-Fries: Cascadian Farm French Fries or Spud Puppies.
Natural Fruit Roll-Ups: Stretch Island Fruit Leather, Cool Fruit Roll-ups made with fruit and no added sugars, colorings, or preservatives.
"Gummy Bears/Worms": Panda licorice pieces, Fruit sticks, licorice rope or pieces.
Lemon Drops: Good Health Sour Lemon Gourmet Drops
Suckers: People Pops (sugar free, no artificial flavors or colors lollipops)
Gum: Peelu Spearmint Gum or other natural gums.
Natural Foods for Arousal/Alerting:
Spices, Fruits, and Vegetables: Lemons, peppers, hot sauces, etc.
Remember that non-food items can also be used to help your child develop. Any "unhealthy" foods currently being used in oral motor therapy or in your child's sensory diet can be substituted for healthier versions or non-food items. Balloons, bubbles, cotton balls, tubing, pinwheels, sports bottles, straws, etc.
Water
For a complete and healthy diet, your child must drink water. Juice and other beverages that contain mostly water may not completely replace water in the diet. Water is essential to life, and is a vital nutrient; it cannot be overlooked. If your child is used to drinking soda, introduce mildly carbonated water with fruit juice added. If your child only drinks juice, begin to dilute the juice until he or she is drinking water.
Fats
Good quality natural fats help the nervous and hormonal systems develop and operate efficiently. Use fats like extra virgin olive oil, flax seed oil, and other unrefined oils, butter (not margarine), eggs, unprocessed cheese, avocados and fish. Pour a small amount of uncooked/unheated olive oil or flaxseed oil on top of waffles, inside a sandwich, on pasta or rice, or other foods your child eats. For non-dairy eaters, try Spectrum or Ghee instead of butter. Coconut milk and coconut oil a must in every house!
Foods that should be eliminated are partially hydrogenated and overcooked/deep fried fats, refined sugar (high fructose corn syrup), food coloring, and other artificial food additives, which have an adverse effect on the physical and mental processes. Read labels to insure items like bread, peanut butters, crackers, and cookies do not have partially hydrogenated fats or refined sugar. Healthier versions are available! Have fun and present foods in a creative way!